Both before and after the presidential election there was lively discussion whether or not voter fraud would affect the outcome.
President Trump's accusation that the vote was compromised due to the participation of illegal aliens was met with outright derision by the media.
The New York Times titled an editorial, "The Latest Voter Fraud Lie," calling Mr. Trump's remarks "baseless claims." NBC News not only called his comments "false and divisive," but added they were "patiently false." CNN's Jake Tapper said, "There is no evidence. It is not true." Esquire.com declared it, "The most bizarre lie of Donald Trump's presidency so far."
A careful review of the evidence, however, paints a different picture.
Three years prior to the election, a 2013 National Hispanic Survey explored Hispanic American views on immigration. A notable piece of information garnered little to no attention by the media. It revealed that 13 percent of the anonymous respondents self-admitted that they were in the country illegally and had registered to vote.
This result closely matched that of the Old Dominion and George Mason study released the following year. The authors, professors Jesse T. Richman, Gulshan A. Chattha and David C. Earnest, relied on the Cooperative Congressional Election Study by a conglomeration of 28 universities that analyzed voters and their views. Based on data from the study, they determined that in 2008, when President Obama was first elected, 14.8 percent of illegal aliens admitted they were registered to vote. Of these noncitizens, 6.4 percent voted in the presidential election of 2008. The study also found that 80 percent of illegal aliens support Democrats.
The researchers believe the votes of illegal aliens likely affected the outcome of Al Franken's Minnesota senate race in 2008, which provided Democrats with the critically-needed 60th vote to pass Obamacare in the then-Democrat-controlled Senate. Franken won by a razor thin margin of 312 votes.
Based on Professor Richman's calculations, Rowan Scarborough, writing for the Washington Times, estimated that the 6.4 percent of 20 million illegal alien voters translated into 834,381 net votes for Hillary Clinton.
The extrapolation of research isn't the only evidence of voter fraud. Revelations in various states point to a serious problem within America's voting system.
Detroit's already sketchy reputation wasn't aided by evidence of widespread voter fraud. The Detroit News reported that over a third of the city's precincts counted more votes at polling locations than the number of people who came to vote — evidence of stuffing the ballot box. A precinct in Wayne County was the worst with 305 votes, yet it recorded only 50 ballots.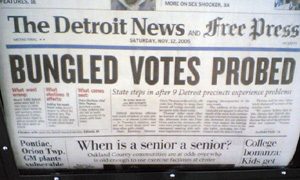 The reverse was also true in the Motor City. State Elections Director Chris Thomas said that a state audit revealed 20 precincts in Detroit had fewer votes than those counted at polling locations — an indication votes were being stolen from the ballot box.
An astonishing 60 percent of Detroit precincts were ineligible for a recount because of unexplained discrepancies. Overall, 11 percent of Michigan's precincts couldn't be recounted due to irregularities.
In Texas, officials charged Miguel Hernandez of Dallas with a felony for targeting senior citizens by having unrequested absentee ballots mailed to them. After which he showed up at their doors to collect them. The ballots were later filled out and their signatures forged.
During recent years, Virginia officials have removed 5,556 illegal aliens from the voters' registry, a third of whom had voted.
NBC12 reported in October of 2016 that Indiana State Police were investigating voter fraud in 56 counties. They suspected falsified voter registrations using real names with fictitious information.
Wisconsin's Waukesha County reported an unusually high 89% voter turnout in the election, with areas showing a 133.3% and 101.1% turnout rate.
Evidence that dead people are voting is alive and well.  KCNC-TV in Denver reported several incidents of deceased Coloradans voting.  One of the most egregious was Sara Sosa who passed away in 2009 but voted in 2010, 2011, 2012 and 2013. Her husband, Miguel died in 2008 but still managed to vote in 2009. During Colorado's election cycle prior to Mr. Trump's election, 8,000 ballots were invalidated when signatures of the voters didn't match the record.
Scoffers who believe such examples are mere antics that won't significantly impact a race are ill-informed. In 2002, Colorado's 7th congressional district race was decided by a paltry 121-vote margin.
Those who question why fraudulent voting can't be quickly and effectively remedied should look to Virginia, which had eight counties with more registered voters than actual eligible voters. The legislature passed a bill requiring county registrars validate the register rolls whenever this problem occurs. The legislation should have received unanimous support, but Democrat governor Terry McAuliffe vetoed the bill. The motivation for obstructing effective remedies is self-evident considering the research indicates a vast majority of illegal aliens vote Democratic.
This is not a complete list of voter irregularities, and it should be pointed out that some of them occurred before the 2016 presidential election. It is, however, clear evidence that what many citizens consider a sacred right — our right to vote — is vulnerable to tampering.
A rigged voting system favors candidates that oppose the civil rights of America's preborn children. Therefore it's important that we do whatever is in the realm of possibility to see that the integrity of America's voting system is safe and secure for everyone — born and unborn.
Bradley Mattes
President, Life Issues Institute
Life Issues Institute is dedicated to changing hearts and minds of millions of people through education. For 25 years, organizations and individuals around the world have depended upon Life Issues Institute to provide the latest information and effective tools to protect innocent human life from womb to tomb.