---
Video: The Possibilities and Joys of Life with Down Syndrome
Featured episodes from Life Issues Institute's Emmy® Award-winning TV program, Facing Life Head-On.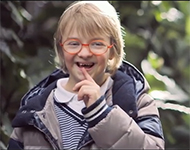 DEAR FUTURE MOM A heartwarming message from 15 people with Down syndrome to a future mom.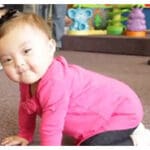 GiGi's Playhouse
GiGi's Playhouse helps those with Down syndrome reach their highest potential and spreads positive awareness.
A Crowning Achievement
The story of a very special high school and its students, who gave a very memorable evening to two of its most loved seniors.
Going to Bat for Down Syndrome
Andy LaRoche is more than a Major League third baseman. He has a major-league heart for children with Down syndrome.
Unexpected Joys: Part One and Part Two
The story of one family's journey into the amazing world of life with Down syndrome.
Completing the Family Tripp and Barbara Curtis had nine children when they decided to adopt three more. Barbara says adopting three children with Down syndrome is what completed their family.
---
On the 'Net

The Love Chromosome
Julie Tennant loves her life, she taught her brother to love his life, and she wants you to love your life, too.
Brighter Tomorrows
Specifically for parents after a Down syndrome prenatal diagnosis. Accurate information about Down syndrome but much, much more.
Down Syndrome: Parents Sharing
An inspirational resource produced by Thomas and Michel Paul, parents to Mikey, born with Down syndrome. Essays, personal stories and message forum.
The Baby Center: Down Syndrome
Active message board with mothers on the prenatal journey, and those months and years down the road. Very supportive group.
Einstein Syndrome: Down Syndrome with a Positive Attitude
Home of the Einstein-Syndrome list, a group of parents and professionals who "push the limits of what it means to have Down Syndrome."
Gifts: Mothers Reflect on How Children with Down Syndrome Enrich Their Lives
An award-winning book by women from all ethnic and religious backgrounds and professional achievement who discuss their experiences of loving and living with children with Down syndrome.
GiGi's Playhouse
Down syndrome awareness centers providing myriad services and opportunities for infants and children with Down syndrome. An especially supportive resource for those who have just received the news about their baby.
International Mosaic Down Syndrome Association
Up-to-date information and access to other families with children who have Mosaic Down syndrome.
Mosaic Down Syndrome
Features a message board, many articles about Mosaic Down syndrome and an extensive list of personal stories.
Upside of Down USA
User-friendly online community for families. Create your own page to tell your story, share links and photos and create and join regional groups.
Chloe's Message
Chloe has Down syndrome, and her site showcases the many positive seeds she has planted in her family and community.
Noah's Dad
A dad's intimate blog about life with his son combined with links to other parents' blogs and resources for parents.